The Hottest T-Shirt Designs for Spring Break 2023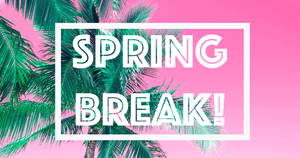 Spring Break 2023 is just around the corner, and it's time to start thinking about what to wear. T-shirts are a staple for any spring break trip, whether you're hitting the beach, the mountains, or just hanging out with friends. Here are the top t-shirt designs for this year's spring break.
Vintage surf style

- If you're heading to the beach, go for a vintage surf-style t-shirt. These shirts feature classic designs and bold colors, and they're perfect for catching waves or just soaking up the sun.

Mountain graphics

- If you're hitting the slopes, a t-shirt featuring mountain graphics is a must-have. Look for designs that feature snowy peaks, ski lifts, and other mountain-related imagery.

Party theme

- Spring break is all about having fun, so why not wear a t-shirt that celebrates the occasion? Look for designs that feature party themes, such as palm trees, cocktails, and sunshine.

Tie-dye

- Tie-dye t-shirts are a staple of any spring break trip. They're bright, bold, and perfect for expressing your individual style. Whether you opt for a classic spiral design or something more intricate, a tie-dye t-shirt is sure to make a statement.

Floral prints

- For a more feminine look, opt for a t-shirt featuring a floral print. These shirts are perfect for lounging on the beach or exploring a new city. Look for designs that feature tropical flowers, such as hibiscus and frangipani, or more delicate blooms, such as roses and lilies.

Graphic tees

- Graphic tees are a great way to make a statement without saying a word. Look for designs that feature bold typography, witty slogans, and eye-catching graphics.

Retro designs

: Nostalgia is always in style, and vintage-inspired spring break designs are no exception. From classic '70s graphics to old-school surf logos, these t-shirts are perfect for those who love a good throwback.

Humorous designs

: Sometimes a good laugh is just what the doctor ordered. T-shirts with funny slogans or puns related to spring break are sure to be a hit with your friends.
No matter what your spring break plans are, there's a t-shirt design out there that's perfect for your gift store visitors. Need help deciding on the perfect designs for your shop? The team at Worldwide Sportswear is here to help. Contact us at 386-679-2980 or visit www.wwspwear.com