Maximize Your Sales During Spring Break: Tips for Gift Shop Owners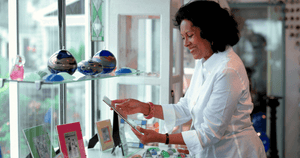 Spring break is the busiest time of the year for many gift shops. With more people traveling and looking for souvenirs to bring back home, gift shop owners need to prepare their store for the rush. Here are a few tips to help you get ready for the spring break season:
Stock up on popular items

: You should know what items are in high demand during spring break. This may include beach towels, sunscreen, hats, and other items that are popular with travelers. Make sure you have enough of these items in stock to meet the increased demand.

Offer unique products

: Visitors are looking for unique and memorable items to bring back home as souvenirs. Offer items that are unique to your area or that can't be found elsewhere. This will help you stand out from other gift shops and attract more customers.

Highlight local products

: People love to bring back items that are specific to the place they've visited. Make sure to feature local products prominently in your store. This can include local artisanal crafts, food items, and other products that showcase the area's culture and heritage.

Create eye-catching displays

: Displays are one of the most important tools for attracting customers. Make sure your displays are eye-catching, organized, and easy to navigate. This will help you draw customers into your store and increase sales.

Train your staff

: Your staff is the face of your store, so it's important to make sure they are knowledgeable about the products you offer and are able to provide excellent customer service. Training your staff on how to deal with busy periods and handle customers effectively will help ensure a positive experience for everyone.
By following these tips, you can prepare your gift shop for the busy spring break season and make the most of this opportunity. Don't wait until the last minute, start planning now and make sure your store is ready for the rush!
Upgrade your gift shop's offerings with popular apparel from Worldwide Sportswear. Choose from a variety of trendy and high-quality options that will satisfy any spring break enthusiast. Don't miss out on this opportunity to attract more customers and increase your sales this spring break season. Contact Worldwide Sportswear today to place your order and get ready to make a splash!